"We Know Precision Medicine" is a series of blog posts and articles about the people of PierianDx and how we know precision medicine through our expertise and personal experiences. In this article, Andy Bredemeyer, VP Product, discusses how PierianDx has given him the opportunity to impact patient care in a way he never thought possible.
What is your role at PierianDx?
My official title is VP of Product. In this role, I provide leadership in two key areas. First, I act in a consultative fashion and help customers who are considering a precision medicine solution like ours understand how they can use the PierianDx infrastructure to streamline their processes and improve their quality of patient reporting. I am not a medical doctor, but it is my role to speak with medical directors, lab directors, and molecular pathologists and describe how we can help them identify variants and put together high-quality reports. This enables us to jointly determine if we are a good fit for their needs.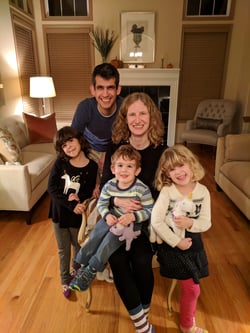 Second, I talk to customers about their challenges and work with our other product leads, our user experience design team, and our product development team to translate their needs into features and requirements. I really enjoy this part of my job because I get to stay in close contact with customers and find creative ways to solve their challenges with our products and services. The field of clinical genomics is growing and evolving, and PierianDx continues to respond with an eye towards enabling labs to issue high quality genomic reports with fast turnaround times.
For both of my roles, I draw heavily on my past experience leading our customer success team. I can provide good advice to prospective customers and represent their needs in our product development efforts because of my interactions with our many customer laboratories who have done amazing things with clinical next generation sequencing (NGS).
How did you end up at PierianDx?
I am a recovering research scientist. I say that jokingly! I love science and I received my PhD in Immunology from Washington University in St. Louis. However, as I delved deeper into molecular biology in a research setting, I couldn't help but feel that I wanted to make more of an impact on the clinical side. Ultimately, I left basic research and took a science policy fellowship at the National Institutes of Health (NIH) in the National Heart, Lung, and Blood Institute (NHLBI). After that fellowship was over, I took a job where I oversaw research core facilities at Massachusetts General Hospital. From there, a colleague referred me to an opening back at Washington University, which was just launching a clinical molecular genetic laboratory using NGS, one of the very first of its kind.
I was blown away by what the lab was doing back when I joined in 2011 and had a steep learning curve to climb! I have now been in the field for nearly 7 years. My background in research, policy, and working with core services labs provided me with a great foundation. By joining the Washington University lab, I became a key part of a group that was supporting decisions made by clinicians to improve patient care. We were striving to develop and implement tests that would enable oncologists to learn the secrets of their patients' tumors. That I could take my background and education as a research scientist and put it to work positively impacting patients is never lost on me. It's something that I appreciate every day. I also count myself tremendously fortunate to have found such outstanding colleagues at Washington University and here at PierianDx.
Why is precision medicine so important to you?
I think we all have somebody close to us who has been impacted by cancer. For me, it was my stepmom, who was diagnosed with ovarian cancer when I was in college. Unfortunately, she lost her battle after only a year. Later, my aunt was diagnosed with breast cancer, and she passed away while I was working at the Washington University lab. Ultimately, she wasn't able to benefit from the work we were doing. However, she and my stepmom provide inspiration for me and I have hope that one day very soon, things will be different for those diagnosed with cancer. As this field evolves, the availability of new tests provides opportunities for therapies that might otherwise have been overlooked, and spurs the development of new targeted agents.
What do you think is the biggest obstacle to making precision medicine mainstream?
Aside from reimbursement, I think it's the general lack of training and education for NGS testing. Launching an NGS test or an NGS testing lab requires very specific knowledge and expertise, and many who are in the position of standing up a lab simply don't have the training or experience they will need to succeed. They are incredibly smart people, yet the details of NGS and interpreting complex genomic results are new to them. I see this most in smaller academic labs, community-based hospitals, and smaller commercial labs. I think there's a lot of opportunity for these labs to make a big difference in precision medicine.
How do you think PierianDx will help overcome this challenge?
As more of these hospitals or smaller labs want to establish an NGS test menu in-house, we will provide our expertise. As a team, we have over 200 years of clinical genomics experience. We have a comprehensive and flexible solution. Customers can access all of our infrastructure or just one component. And everybody who works here shares a sense of urgency to make precision medicine routine.
What do you do when you aren't working?
Outside of work, I like to spend time with my wife and three children, including playing violin in ensembles and with my two daughters, who are just learning. It was exposed in an earlier article that our founder, Rakesh Nagarajan, likes 49ers football. So I may as well come clean and admit that I'm a huge Chicago Cubs fan, despite living in the great state of Missouri!
Recently, Andy teamed up with PierianDx Medical Director, Shalini Verma, to discuss the Association for Molecular Pathology (AMP) guidelines for the interpretation and reporting of sequence variants in cancer. Watch a recorded version of the webinar here.