Enabling High-Throughput Comprehensive Genomic Profiling
by PierianDx, on August 11, 2020
Comprehensive genomic profiling is emerging as a powerful tool in our arsenal to treat cancer. It's easy to see why: with a minimal amount of sample, clinicians are able to identify all four types of genetic alterations across a large set of genes with known relevance to cancer. When you consider that up to 90% of patients who undergo comprehensive genomic profiling may have an actionable genetic alteration1-6 , you begin to understand how this new diagnostic tool can revolutionize cancer care.
To enable laboratories to perform comprehensive genomic profiling, Illumina has launched the TruSight Oncology 500 family of assays, which interrogate 523 genes with known relevance to cancer. This family of assays includes:
TruSight Oncology 500
TruSight Oncology 500 ctDNA
TSO 500 High-Throughput
At PierianDx, we have developed a fully integrated interpretation and reporting workflow for the TruSight Oncology 500 family. Now we are proud to announce that we offer a fully integrated workflow for the High-Throughput assay as well. Using any of these integrated workflows ensures that your laboratory can quickly implement these assays and produce oncologist-ready reports.
Overview of the Workflow
The High-Throughput assay provides the same ability to perform comprehensive genomic profiling as the TruSight Oncology 500; however, it is designed for use with the NovaSeq instrument to accommodate higher throughput and batching for laboratories that process a high volume of samples.
After DNA or RNA samples are extracted from FFPE specimens, library prep and enrichment are performed using the TSO 500 High-Throughput library prep kit. Following sequencing on the NovaSeq series instrument, variants are called using the TSO 500 local app or Local Run Manager. Finally, .VCF files are easily transferred to PierianDx Clinical Genomics Workspace for rapid interpretation and reporting of variants using the PierianDx Clinical Genomics Knowledgebase.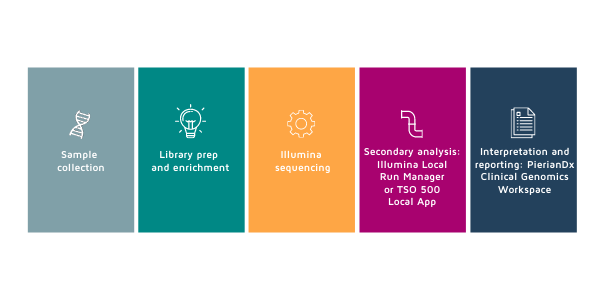 For more information on our optimized interpretation and reporting solution for TruSight Oncology 500 High-Throughput assay, contact us.
References
Stransky N, Cerami E, Schalm S, Kim JL, Lengauer C. The landscape of kinase fusions in cancer. Nat Commun. 2014;5:4846. doi:10.1038/ncomms5846.
Boland GM, Piha-Paul SA, Subbiah V, et al. Clinical next generation sequencing to identify actionable aberrations in a phase I program. Oncotarget. 2015;6(24):20099-20110.
Massard C, Michiels S, Ferte C, et al. High-throughput genomics and clinical outcome in hard-to-treat advanced cancers: results of the MOSCATO 01 trial. Cancer Discov. 2017;7(6):586-595.
Harris MH, DuBois SG, Glade Bender JL, et al. Multicenter feasibility study of tumor molecular profiling to inform therapeutic decisions in advanced pediatric solid tumors: the individualized cancer therapy (iCat) study. JAMA Oncol. 2016;2(5):608-615.
Parsons DW, Roy A, Yang Y, et al. Diagnostic yield of clinical tumor and germline whole-exome sequencing for children with solid tumors. JAMA Oncol. 2016;2(5):616-624.
Reitsma et al., 2019. Effect of a Collaboration Between a Health Plan, Oncology Practice, and Comprehensive Genomic Profiling Company from the Payer Perspective Journal of Managed Care & Specialty Pharmacy.