Precision medicine is the ability to use genomic information to optimize diagnosis and treatment and provide better outcomes for patients. "We Know Precision Medicine" is a series of blog posts and articles about the people of PierianDx and how we know precision medicine through our expertise and personal experiences. In honor of breast cancer awareness month, Bryce Daines, VP Product Development, discusses his role at PierianDx and why, as the spouse of a breast cancer survivor, precision medicine is so important to him.
What is your role at PierianDx?
I lead Product Development at PierianDx, which means I focus on delivering value to our customers in the form of a reliable, scalable, and secure software solution: the Clinical Genomics WorkSpace. More than 45 CLIA/CAP laboratories use our software to deliver clinical reports informing patient care.
On a daily basis, I work with software architects and developers, bioinformaticians, quality leads, and product owners to ensure that our software prevents failures, protects patient information, and avoids unnecessary costs. I feel fortunate to work with this team of talented individuals. My colleagues come from diverse backgrounds in academia and industry, software development, and biomedical sciences, and all of them have demonstrated a commitment to learning this complex domain and eagerness to continually improve.
As testing volumes continue to grow and as laboratory developed tests (LDTs) continue to increase in complexity, I have confidence in the ability of our team to enable new testing modalities and provide solutions for our partner laboratories.
What is your educational background and how did you come to PierianDx?
Growing up I read a lot of science fiction and non-fiction and became fascinated with DNA and genetics. In particular, the sensationalized and occasionally graphic depiction of the Ebola virus from "The Hot Zone," set me on a course toward a career in the biomedical sciences. I also grew up in a household where we discussed computer science and technology on a regular basis.
The intersection of my interests led me to pursue a Bachelor of Science degree in Bioinformatics and a Ph.D. in Molecular and Human Genetics. I was fortunate to train in the Human Genome Sequencing Center at Baylor College of Medicine, one of three centers chosen to complete the Human Genome Sequencing Project. When I began graduate school, next-generation sequencing was just coming of age; I had access to the first commercial instruments on the market. Since then I've been working with next-generation sequencing technology in a variety of contexts including research and clinical, model species, plant and agriculture, and human disease.
Prior to PierianDx, I led Product for Tute Genomics, which focused on software solutions for clinical laboratories, primarily whole-exome sequencing and germline disorders. PierianDx acquired Tute in 2016 and I stayed on because of the opportunity to work with engaged and brilliant people, including PierianDx founder Rakesh Nagarajan, and the vision that we all share of improving medical care for cancer patients.
Why is precision medicine so important to you?
Many of my colleagues at PierianDx are motivated by the personal medical journey of a loved one. In my case, my wife, Pamela, is a survivor of Stage III breast cancer. Shortly after our fourth child was born, Pamela discovered a lump through self-examination; she was told she was too young for cancer. By the time she had a definitive diagnosis, her tumor was 5 cm in size.
We were surprised to learn how unprepared community oncologists were to leverage the genomic tools that I work with on a daily basis and assumed to be more readily available. It was up to us to pursue molecular testing. We explored everything we could to understand her diagnosis and treatment options: hereditary screening, tumor molecular profiling, and liquid biopsy.
During that time I came to appreciate that it wasn't my job to treat her disease or 'cure' her cancer. My job was to provide support and compassion as she went through this difficult challenge. It was challenging to balance the responsibilities I had at work and at home. Fortunately, after months of treatment, including surgery, chemotherapy, and radiation, she has been cancer free for the past three years.
Her experience gives me empathy for the patient medical journey and opened my eyes to a myriad of challenges in enabling the adoption of genomic medicine: early detection, decision support, immuno-oncology, monitoring, clinical trial matching, etc. I also developed the firm belief that with my training and personal experience I could contribute in meaningful ways to identifying, inventing, and implementing solutions to advance precision medicine because "sometimes in tragedy, we find our life's purpose." [1]
What do you think are the biggest challenges to realizing precision medicine?
As we learned during my wife's cancer treatment, physicians and health systems are just beginning to adopt the genomic tools available to personalize treatments based on an individual's genome and the biology of their cancer. What's more, the advent of genomic technologies has evolved our understanding of cancer as a disease of the tissue and enabled classifying cancer by increasingly narrow molecular subtypes. There are now hundreds of clinical trials in progress, testing targeted therapies and immunotherapies separately and in combination across patient populations differentiated by molecular profiling. This wave of innovation is promising to patients as new treatment options are readily becoming available; at the same time, it presents an enormous challenge to treating physicians who must stay abreast of the deluge of emerging treatment options. For most physicians, whose time is focused on patient care, there is no way to digest all of the literature within their area of specialty, let alone understand what is happening beyond their specialty.
How do you think PierianDx will help address this challenge?
Today, there is a small number of commercial laboratories responsible for a significant portion of tumor molecular profiling. I believe that as the cost of sequencing continues to decline, as patient awareness leads to increased demand for testing, and as assays become more comprehensive, health systems and cancer centers will continue to insource testing. PierianDx will enable leading health systems by providing them with the software solution and knowledge required to deliver meaningful clinical reports for patient care.
I think that this is how PierianDx will help. We will help bridge this gap for the physicians. We will continue to foster the sharing of clinical content and building a large repository that supports the creation of informed clinical reports that can be used by physicians to treat patients and benefit medicine as a whole.
I believe in the potential of genomic medicine to impact healthcare in transformative ways, beyond diagnosis, prognosis or targeted therapies. In the coming years and decades, we will learn to harness biological markers from genomics, proteomics, metabolomics, interactomics and the other '-omics', not only to monitor and manage disease but more importantly to prevent it. I also believe in the potential of enabling technologies, including analytics, machine learning, or artificial intelligence, to enable physicians to access and leverage these complex biosignatures. I believe advances in medical knowledge and technology will deliver on the promises of personalized medicine.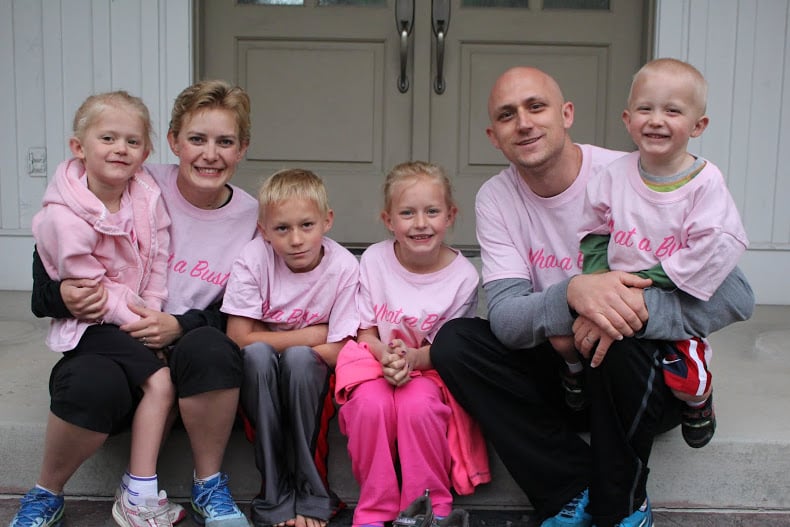 Bryce and his wife, Pamela, and their four children.
What do you like to do in your spare time?
I'm a self-described "geek," and enjoy participating in the maker community. I love learning about technology including 3D printing, laser cutting, hardware, and software. Mostly though, I love to spend time with my wife and four children. Their interests and hobbies are diverse. Between triathlons, violin, cross country, scouting, gymnastics, ninja warrior, and enjoying the outdoors, we are an eclectic bunch!
[1] Robert Brault.