Precision medicine is the ability to use genomic information to optimize diagnosis and treatment and provide better outcomes for patients. We Know Precision Medicine is a series of blog posts and articles about the people of PierianDx and how we know precision medicine through our expertise and personal experiences. In honor of childhood cancer awareness month, Lisa Owen, Marketing Director, discusses her role at PierianDx and why precision medicine is so important to her.
What is your role at PierianDx?
My title is that of Marketing Director, but before you go thinking that I'm going to pitch something to you, I'm not, at least not in the way you might expect. My background is in writing, editing, and instructional design, so I'm focused on clear, accurate, and usable information that helps potential customers determine if our products and services are the right fit for their laboratories. My focus on information -- rather than marketing mumbo jumbo -- works well because potential customers of PierianDx are highly educated pathologists, oncologists, or scientists. They can spot so-called marketing embellishment when they see it. What they really need is high-quality information so that they can properly evaluate our products and services.
In my role, I do a lot of the behind-the-scenes work to support our Medical Director and others in key customer-facing roles to produce our informative webinar series or to develop content that shares our expertise on a certain aspect of clinical genomics. At PierianDx, one of our goals is to democratize clinical genomics through use of information and education and all of the materials I produce support this goal.
Why is precision medicine so important to you?
Even though I'm not a scientist or a clinician, I've always been fascinated with human health. In 2006 my interest became much more personal when my youngest child, Keaton, was diagnosed with a highly cancerous brain tumor at only 16 months old. He had the most common type of brain tumor, a medulloblastoma, but he was considered high risk because he was under the age of 3 and because by the time we had diagnosed him, the tumor had metastasized all the way down his spine. The word that most medical journals used to describe his prognosis was "abysmal."
Keaton was treated at Seattle Children's Hospital, which has a laboratory that partners with PierianDx, the University of Washington, and Fred Hutchinson Cancer Research Center. At the time he was diagnosed, I worked for a company called Rosetta Inpharmatics, which made microarray gene expression data analysis software, and it was a subsidiary of Merck Pharmaceuticals. I worked with cancer researchers and knew what these researchers were starting to do with cases like my son's. But of course, back in 2006, none of this was available clinically. So rather than receive a more personalized treatment, Keaton received what was considered the best available treatment at the time. It included surgery to remove most of the tumor in his brain, an autologous stem cell transplant, and high-dose chemotherapy, followed by six weeks of every-day radiation to the cerebellar region of his brain and spine. In the younger medulloblastoma patients, radiation is deferred as long as possible in lieu of higher doses of chemotherapy.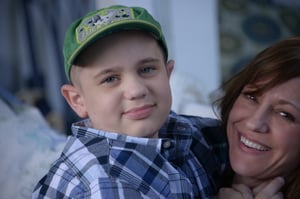 Miraculously, he survived, but every day we have reminders of how hard the cancer and treatment were on his developing body. For instance, because of the surgery and radiation, which both damaged healthy brain tissue, it took him 6 years to fully walk on his own again. Since we radiated his pituitary gland in the process, he has to take certain medications for the rest of his life. He also has hearing damage from the chemotherapy. To top it all off, earlier this year, he was diagnosed with papillary carcinoma in his thyroid, which resulted from the scatter of the radiation treatment he received. He's an amazing kid but has to work really hard at everything. I tell people that he's like my second and third child all rolled into one because he is different than he used to be before his diagnosis and treatment. But I am not complaining: many of the families we met during treatment lost their children.
My son and the other kids we've met along the way are always on my mind, and I hope that one day all children can be cured and cured without some of these devastating side effects. Of course, fully understanding each diagnosis at the molecular level and being able to offer personalized, more curative treatments would go a long way toward realizing this hope of mine. And that's why precision medicine is so important to me.
What excited you about working at PierianDx?
For me, PierianDx represents the intersection of my personal and professional life. I work hard, but it doesn't feel like work because the subject matter is something I'm so passionate about. That I am a writer but get to work in this space to describe our technology and services and support people who are truly making a difference in this field is never lost on me. Also, it doesn't hurt that the people here are so great to work with.
What do you think is the biggest obstacle to making precision medicine a routine part of healthcare?
When my son was first diagnosed, I was horrified to hear his doctors talk about how his treatment plan was the SAME one given to all toddlers that shared his diagnosis and how it might not work for the biology of his tumor. Fast forward to his second cancer diagnosis earlier this year where his oncologist told me that if we don't get all of the thyroid cancer via surgery, he can run a tumor sample on a gene panel he helped develop to determine the type of treatment that will work best. He added emphatically that "We've got this!" Granted, his second cancer diagnosis wasn't nearly as grim as his first, but I was incredibly heartened by how much progress has been made in 11 years.
Although we've made progress, I think we have a long way to go before precision medicine happens universally and holistically across all healthcare encounters. When you consider everything that needs to happen in order to use genomic information to diagnose and treat patients it's really sort of mind-boggling. Something this profound and difficult calls for large doses of education, collaboration, and coordination. I think this is the biggest obstacle we face now.
How will PierianDx help overcome those obstacles?
I'm fairly new to PierianDx but I think we will play a very important supporting role to those pathologists, oncologists, and other scientists who are working so hard to diagnose and treat patients, like my son, whose lives have been turned upside down by their health circumstances. I mentioned our medical director, Shalini Verma, earlier and like her, there are so many people at PierianDx who have extensive clinical genomics experience. So because this expertise exists, I think we have an obligation to share it and educate more providers (and patients) on what is ultimately possible. Likewise, our Clinical Genomics Workspace, medical interpretation database, and services will help clinicians collaborate with others and coordinate the many requirements for developing, launching, and conducting these genomic tests.
What do you like to do in your free time?
In my free time I work together with other parents to raise money for local researchers who develop new therapies for pediatric cancer. We've already helped fund tumor paint, made from the venom of an Israeli deathstalker scorpion, into clinical trials. Additionally, some of the researchers we support just launched an immunotherapy trial for recurrent brain tumor patients. Being a member of this community I don't take anything for granted -- I just love to spend time with Keaton, his big sister, their dad, and our menagerie of pets.